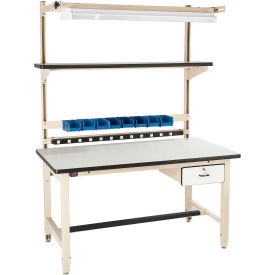 Pro-Line Bench-In-A-Box Adjustable Height Workbenches
Pro-Line Bench-In-A-Box is Strategically Designed to Reduce Configuration and Guesswork by Fitting a Complete Workbench System Shipped in a Single Box.

Pro-Line bench-in-a-box adjustable height workbenches are ideal for warehouses, garages, and more. Workbenches are versatility designed to hold a variety of equipment and adjust to different heights. Bin holders allow additional organized storage. Most models include overhead shop light for increased visibility. Workbenches are either Pull Pin or Hank Crank controlled for manual height adjustment. Steel body construction offers lasting durability. Available Top Constructions are ESD Laminate Bullnose Edge, ESD Laminate Safety Edge, Plastic Laminate Bullnose Edge, and Plastic Laminate Safety Edge. Weight capacity range is from 500 - 5,000 lbs. depending on the model. Colors and additional specifications vary per model.