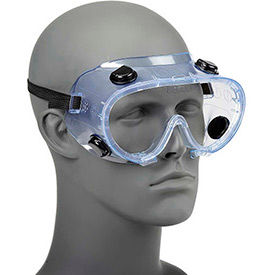 Polycarbonate Impact & Chemical Resistant Goggles
Polycarbonate Impact and Chemical Resistant Goggles Provide Eye Protection For Applications Including Construction, Manufacturing, Medical, and more.

Polycarbonate impact and chemical resistant goggles ensure high impact vision safety and protection from fluids, debris, UV rays, and more. Unit goggles are constructed of polycarbonate and vinyl for lasting reliability and corrosion resistance. Vinyl frame accommodates facial contours for user comfort. Goggles are optically correct for minimum distortion. Includes dual vents and elastic strap for unit stability and adjustability. Optional anti-scratch and hard-coat features available. Available styles include Anti-Fog Safety Goggles, Chemical Goggle, Chemical Splash Resistant Goggle, Impact Resistant Goggle, and Safety Goggles. Ventilation options are Direct/Perforated, Indirect, Perforated Sides, and Vented. Package quantities are 1 and 12. Lens color is Clear. ANSI approved.