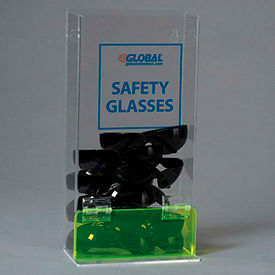 Safety Eyewear Dispensers
Safety Eyewear Dispensers Provide Convenient Eyewear Storage For Construction Sites, Industrial Areas, Welding Jobs, and more.

These safety eyewear dispensers are designed to protect eyewear while providing easy storage and access for personnel. The large openings can fit larger size goggles as well as glasses making them useful for all job types. The see through window makes viewing inventory easy. The multiple dispenser options can store up to 70 pairs of safety glasses. Available styles are 20 Pair Safety Glass Dispenser, 20 Pair Safety Glass Dispenser Clear Acrylic with Lid and Door, 20 Pair Stack Style Safety Glasses Dispenser, and more. Package quantity is 1. Dimensions vary per model.