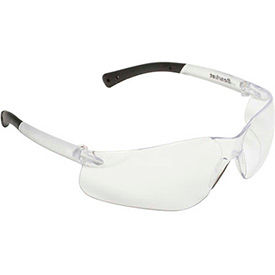 MCR Safety - Frameless Safety Glasses
MCR Safety - Frameless Safety Glasses Provide Eye Protection for Construction Sites, Manufacturing Plants, Medical Facilities, and more.

These frameless glasses offer high impact vision safety and protection against dust, debris, UV rays, and more. The polycarbonate construction ensures impact resistance for fall protection and corrosion resistance for wet or moist working environments. The universal nose bridge accommodates various nasal profiles for reduced slippage and user comfort. Hinged temples support convenient storage. Optional anti-scratch, anti-fog, and hard-coat features available. Package quantities are 1 and 12. Lens colors are Amber, Clear, Clear Mirror, and Gray. Frame colors are Amber, Black, Blue, Clear, Gray, and more. ANSI approved. Dimensions vary per model.