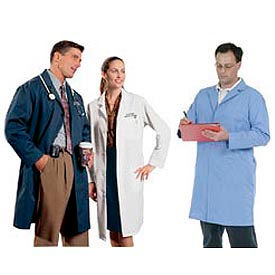 Lab Coats And Jackets
Lab Coats and Jackets Provide A Multi-Purpose Outer Layer for Medical, Laboratory and other Healthcare Environments to Protect Personal Clothing.

Lab coats and jackets are tailored of sturdy, wrinkle-resistant fabric and soft, breathable machine washable 65% polyester combed cotton poplin for exceptional comfort. Other materials include flame-resistant cotton, Microforce Barrier SMS Fabric, Kevlar, and Nomex combos. Available lab coat styles include Unisex, Unisex Microstatic ESD, A40 Liquid and Particle Protection, A20 Breathable Particle Protection, Concealed Front FR Cotton or Nomex, Men's and Women's styles, and more. Available in men's, women's and unisex styles. Available closure types include Button Front, Concealed Snap Front, Gripper Front, Knot Button Front, Placket Snap Front and Snap Front. Coat lengths range from 16" - 45-1/2". Adjustable wrist areas and side slits provide pocket access. Size and color vary per model.