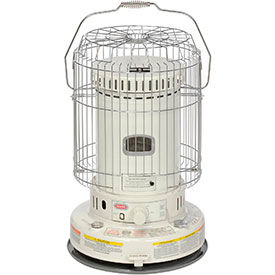 Indoor Kerosene Heaters
Indoor Kerosene Heaters Are Used For Homes, Basements, Garages, Cabins And Other Small Heating Applications.

Indoor Kerosene Heaters are solidly manufactured for long lasting durability and dependability. The Dyna-Glo Delux brand offers various type and design units that provide safe, supplemental heating options. No electricity required. Selected features include Mechanical Tip Shut-Off Assemblies, Push Button Electric Ignitions, Run-Time Fuel Gauges, One Touch Extinguish Systems, Convenient Handles and more. 10000 to 23000 BTU heaters provide 500 to 1000 square feet of coverage with from 8 to 13 hour run times. 1 and 1.9 gallon tank capacities. Replacement wicks sold separately.