Why Choose Us
Why Global Industrial Hospitality?
Hotel managers know there's more to ensuring a comfortable guest experience than just a clean facility—and so does Global Industrial. We've been supplying resorts and hotels with a range of cleaning supplies, furniture and maintenance products to help them accommodate a 5-star stay. From lobby to laundry room, we have a wide variety of solutions to improve your business:
Distribution centers throughout North America for faster shipping.
A product catalog that acts as a one-stop shop and encompasses every part of your business.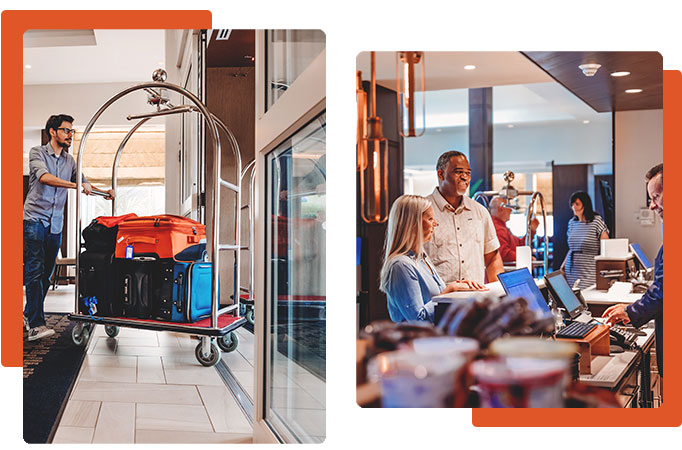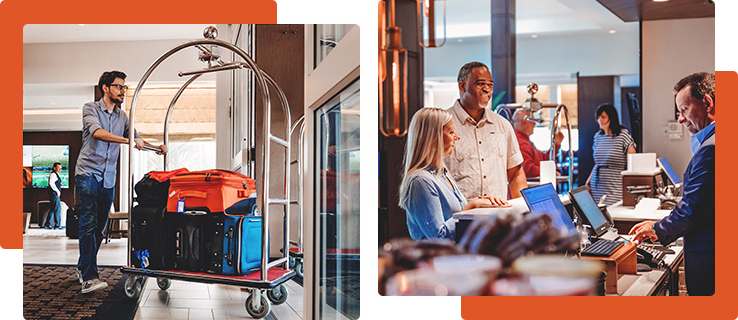 How Can We Help You?
Our Hospitality Solutions
Whether you're simply restocking carpet cleaner, replacing broken lighting fixtures, old furniture, or worn out equipment, Global Industrial Hospitality has the product assortment, supply chain reliability, and team of specialists to answer every one of your procurement questions.
The Cost Of Labor
Do You Know How Much Labor Costs Affect Your Bottom Line?
According to CoStar, "Labor is typically one of the highest expenditures for hotels, representing, on average, 49% of total industry costs worldwide", so "managing labor cost efficiently is critical". Visit our parent company at costargroup.com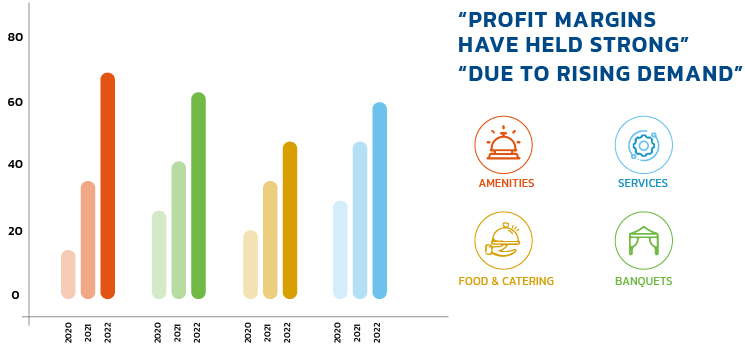 Spend Money To Make It
It's Time To Bring Back Perks That Will Set Your Hotel Apart.
Joseph Rael, STR's Senior Director of Financial Performance, states "Profit margins have held strong"…and "hotels have brought back services, amenities and F&B operations that were previously reduced, which have increased profits". Adding, "catering & banquet revenue" has been improving "due to rising…demand." Data solutions and insights available at str.com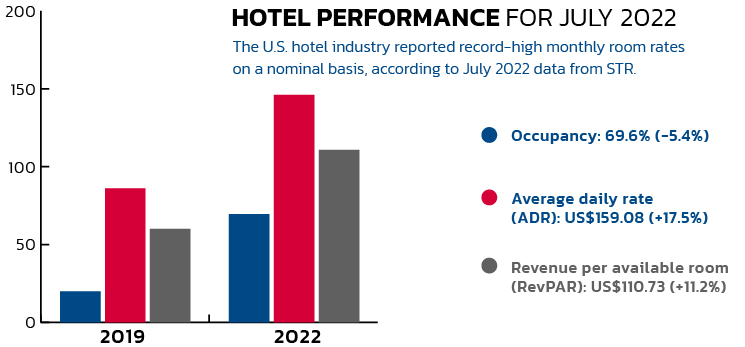 Rising Of Room Rates
What Does The Cost Of A Room Mean For Your Bottom Line?
Comparison data between July 2019 and July 2022 from STR shows that "The U.S. hotel industry reported record-high monthly room rates on a nominal basis" at US$159.08 (+17.5%) in July 2022 compared to July 2019, and revenue per available room also increasing US$110.73 (+11.2%). Data solutions and insights available at str.com
Design Your Space
The Best Space For You Is One That You Design Yourself
Click below and visit our interactive spaces that will help inspire you, then call one of our Subject Matter Specialists to help design your perfect lobby, storage room, pool patio, or dining area.
Check Out Our Large Selection
Top Products For Hospitality
Explore More
The Brands We Carry
Explore Our Extensive Resource Center
Get Inspired And Educated
Visit our Knowledge Center below to read in-depth articles that will help give you some inspiration and information on how to make the most of your space and your budget.
Discover More Products
Top Hospitality Categories
Get In Touch
Need Assistance? Have A Question? Don't Know Where To Start?
Give us a call or fill out the form below and get in contact with someone from our helpful Sales team or a knowledgeable Subject Matter Specialist.
1.888.645.0878
✓
Thank you! We received your information and someone will be in touch shortly.