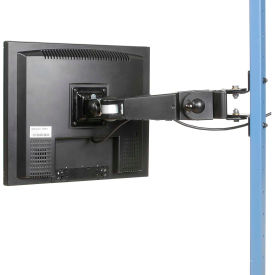 Computer Accessory Mounting Arm and Bracket
Mounting Arm and Bracket for Workbench Provide a Convenient Work Environment for Best Efficiency.

Versatile space saving computer accessories adapt to your needs. Build a complete workstation for Production, Assembly, Laboratory, Packing and more. This convenience solution accommodates Flat Panel VESA Monitor, Keyboard and Mouse Tray, Keyboard Drawer, Laptop Tray and Cabinet. Simply attach the accessory to the arm or bracket. Hardware included. Easy assembly.