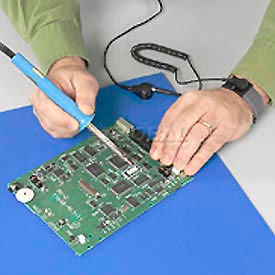 Rubber Anti-Static Mats
Anti-Static Mats Are Suitable For Assembly Operations In Need of Static Protection.

Anti-Static mats provide protective layering where matting may come in contact with hot soldering iron tips or solder splashes. Select models are lead-free and RoHS compliant. Volume electrical properties protect static sensitive products and provide workplace safety. Durable rubber construction provides lasting durability. Available Thicknesses are 0.06" and 0.08". Dimensions and additional specifications vary per model.