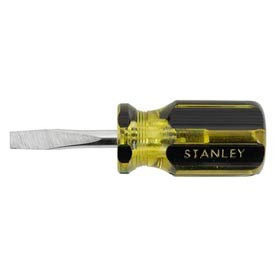 Stanley Standard Tip Screwdrivers
Stanley Standard Tip Screwdrivers Allow Convenient Fastener Installation and Removal for Residential, Repair, DIY, and Other Related Environments.

These screwdrivers are made with corrosion resistant, polished chrome plated heat treated alloy steel shanks for long lasting durability and dependability. Wide selection of types and sizes available for particular fastening need or application. Types include Pocket Driver, 100 Plus®, FatMax®, Vinyl Grip, Fluted and more with slotted tips and square blades that allow for use with a wrench for added torque. Available in wide range of 3/32, 1/8, 3/16, 1/4, 5/16 and 3/8 inch diameter tip widths and 1-3/4, 2, 3, 4, 6, 8, 8-1/4, and 12 inch lengths.