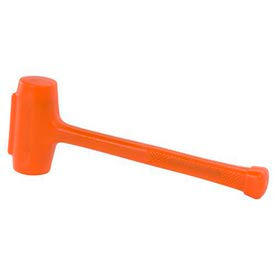 Stanley Soft Face Hammers
Stanley Soft Face Hammers Apply Substantial Striking Force With Minimal Rebound and Material Surface Damage.

These hammers are solidly made for long lasting durability and dependability. Stanley® and Proto® Compo-Cast® Soft Face Hammers are made of Uni-Cast™ construction of non-ferrous materials that eliminate sparking and won't absorb liquids. No exposed metal on face, head or shaft. Soft face helps prevent bounce-back and marring. Steel reinforced handles provide strength and resist breaking on overstrike. Stanley® Hickory Handle Soft Face Hammers have durable replaceable plastic faces that are used for fine finished surfaces and lacquered Hickory handles. Proto® Soft Face Hammers have fiberglass handles with comfort grips that are available with or without various Medium or Hard type tips that may be purchased separately. Hammers available in wide range of 10-1/8 to 36-1/8 inch overall lengths.