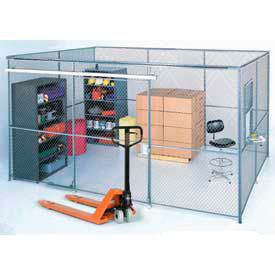 Wire Mesh Partition Security Rooms - Preconfigured
Wire Mesh Partition Security Rooms - Preconfigured Accommodates Security Barriers For Warehouses, Factories, and more.

Wire mesh partition security rooms – preconfigured provide security, safety, protection and access control. These pre-designed rooms are available with or without a roof, in two, three and four sided configurations. Constructed from high quality 10 gauge steel wire, woven into an extremely strong frame. Modular components makes installation easy; usually requires no change to existing heating, lighting or ventilation system. Components bolt together quickly and can be easily relocated. Long-lasting maintenance-free powder coat gray finish. Available in 8' and 10' high in five standard sizes ranging from 10' x 10' to 30' x 20'. All models include a 5'W x 8'H sliding gate with mortise cylinder lock. Additional specifications vary per model.