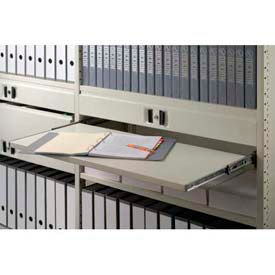 Penco® Clipper ® Shelving Accessories
Penco® Clipper® Shelving Accessories Are Used For Enhancing Clipper® Storage Units Or Systems.

Penco® Clipper® Shelving Accessories are manufactured from high strength steel for long lasting durability and dependability. Base Strips close the space between the floor and the bottom shelf. Bin Fronts consist of steel panels that partially enclose the front opening of a shelf to keep bulk items within a bin. Attach to the front of the shelf with nuts and bolts or metal clips. Finished End Panels are formed sheet steel panels used to finish the end of a shelving row. Attach to posts to cover holes and hardware and present an attractive finish and appearance. Full Height Shelf Dividers are designed to divide a shelf opening into smaller units. Mounts to the upper and lower shelves and contains a beaded front for maximum strength and durability. Label Holders consist of formed strips that accept 7/8 inch high labels. Fastens to the shelf with plastic buttons (included). Sliding Reference Shelves are flanged on all 4 sides and reinforced. Slide on quiet, smooth-running nylon rollers and guides. Include grooved key cylinder lock and 2 keys. Swinging Doors come complete with 3-Point latching handle and 2 keys. Pre-hung at the factory on a welded frame for easy assembly and proper fit. Can be used on a standard ledge or counter units up to 87 inches high. Can be attached to box posts or angle posts. Base strips should be ordered to close the opening between door frame and the floor. Hardware is included with all accessories.