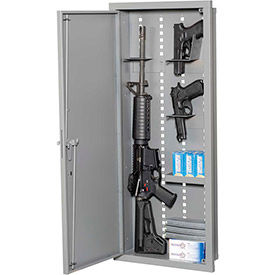 Recessed Gun Storage Cabinets
Recessed Gun Storage Cabinets Provide Semi-Concealed In Wall Storage For Gun Collections.

Recessed Gun Storage Cabinets are made of steel to provide long lasting durability. Semi-concealed in-wall storage unit has interchangeable components to customize unit. In wall, recessed design saves floor space and can fit between and be anchored into wall studs for added security. Shelves and other components are available for general or customized storage. Full height piano hinged door prevents tampering to provide added security. Large selection of gun capacities to meet specific firearm storage needs. Lock types are Keyed Lock/Keyed Different, Kaba Simplex Combo or Electronic Keypad. Color finishes include Battleship Gray, Desert Sand, Ivory and Stealth. Accessories to increase pistol storage capacity are sold separately.