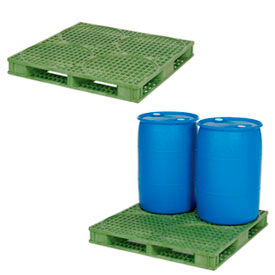 Drum Barrel Pallets
Durable Plastic Drum Pallets are Corrosion and Weather Resistant for Outdoor Use or Storage.
Plastic Drum Pallets are made with green polyethylene for structural strength and corrosion resistance. 4-drum Pallets hold four 55 gallon drums. One side features molded barrel rings for a secure fit. Opening is
Four-way Entry.
3-5/8 x10 fork clearance. Pallets are USDA/FDA approved. Fork weight capacity is
4000 lbs.
Floor weight capacity is
30000.
Click here to see our full selections of
Pallets and Skids.