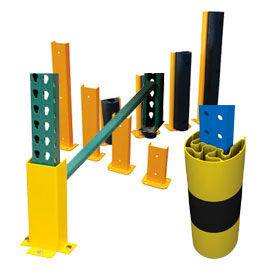 Pallet Rack - Rack Guards
Pallet Rack - Rack Guards Defend Valuable Pallet Rack Uprights Against Fork Truck Impact Damage.

These rack guards are designed to help withstand pallet racks from impacts using sturdy, heavy-duty layered covering that fits tight around compatible frames. Pallet rack protection guards feature bright yellow powder coat finish and 4 predrilled mounting holes for easy floor anchoring (hardware sold separately). Rack Guards With Rubber Bumper provide added shock and impact absorption. Most models are 3-3/4" or 4" Depth Base material and additional dimensions vary per model.