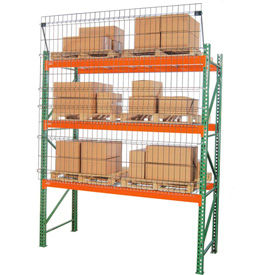 Husky Rack & Wire - Aisle Shields
Husky Rack & Wire Aisle Shields is the economical answer to aisle safety and the increasing demands of regulatory agencies for fall protection into pallet rack aisles.
The new Aisle Shield design features heavy duty 8-gauge welded wire, stiffened with innovative upright flutes. These high-visibility panels attach to pallet rack systems using specially designed 4" or 6" Eyebolts or 1" offset Flushclips. Extension Bars in 24" and 48" lengths are also available to extend the panels beyond the pallet rack heights.

Note: 4 Clips or Eyebolts are required for 36" high panels and 6 are required for 48" & 60" high panels.