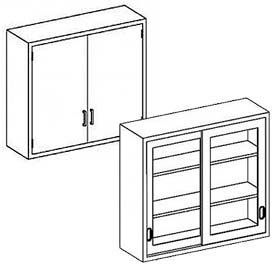 Blickman Stainless Steel Wall Cabinets
Blickman Wall Medical Cabinets Are Used For Storing Hospital, Medical Center And Treatment Area Supplies.

Blickman Wall Medical Cabinets are made of stainless steel for long lasting durability. Designed for flush face construction with a recessed back panel for uneven wall surfaces, the solid doors are double walled for added strength and sound deadened for optimal performance. Sliding doors ride quietly on noiseless ball bearing rollers. Dimensions vary. Door types include Solid Single Door, Glass Door, Open Front , Solid Double Door , Glass Double Door, and Glass Sliding Door in 2 or 3 shelf quantities.