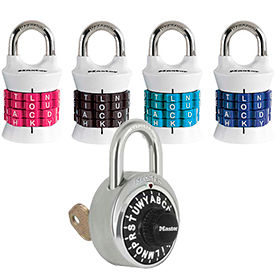 Letter and Word Combination Padlocks
Letter and Word Combination Padlocks Ensure Security and Theft Protection for Locker Rooms, Offices, Luggage, and more.

These padlocks have hardened steel shackles to withstand abuse and lasting durability. Easy to dial; 3-letter combinations (patent pending). Indicators are clearly labeled with bold letters. Dual Protection Anti-Shim Technology withstands attempts to violate the latch mechanism; Foreign patents pending. 1585 and 1572 series include combination chart to facilitate lock system administration. 1585 series available with control key for supervisory access. Shackle dimensions vary per series. Colors include Chrome Plated, Assorted, Metallic, Orange, Red, Purple, Green, Grey, Black, Blue and Gold.