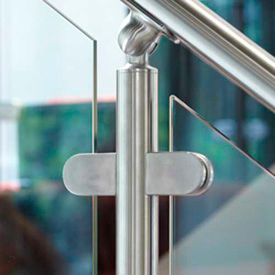 Glass Railing Clips and Grips
Lavi Industries Glass Railing Clips and Grips

Glass guardrail and stair railing systems work well in almost any environment, providing an unobstructed view. Our glass clips and grips provide an easy and secure way to mount glass panel to railing posts, walls and other surfaces to create a beautiful architectural railing system. Precision engineered parts ensure a perfect fit-both with the glass panel and the railing tube. Chose from radius or square designs in various sizes to complement your railing system. Available in solid brass or stainless steel to fit popular railing diameters and flat surfaces. Note: When using tempered glass, holes must be drilled prior to tempering.