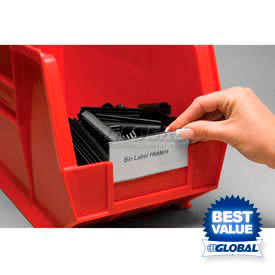 Tri-Dex™ Label Holders
Tri-Dex™ Label Holders Allow Easy Content Identification for Storage, Automotive, Commercial, and Other Similar Environments.

Clear label holders feature a tri-fold configuration to seal in labels (not included) for safe-keeping and clear, visible viewing of label. Label holders easily slide into molded-in label slots on Bins (sold separately) to protect labels or can be hung over hopper front on bins to provide label storage for bins without label slots. Made of clear PVC. No adhesive required. Sold in quantities of 25.