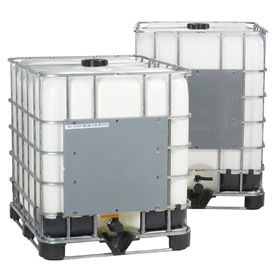 IBC Containers - UN Approved
IBC Containers - UN Approved Provide space-saving storage containment for multi-trip applications.

IBC Containers - UN Approved are designed for storage of both hazardous and nonhazardous contents. Easy to fill, stack and load. Hot-dipped galvanized steel cage is consistent with Food Code requirements in non-direct food contact environments. Plastic Pallet base is designed for durability and structural integrity. Includes inner storage tank made from HDPE plastic with white UV-blocking additive. Includes 2" butterfly valve with Viton gasket. Top fill cap is 6" diameter with 2" bung. Complete unit is UN approved -UN 31HA1/Y. Additional specifications vary per model.