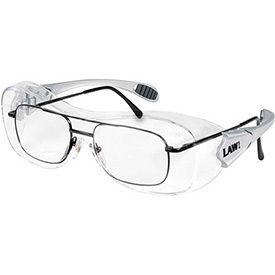 Over The Glass (OTG)
Over The Glass (OTG) Provides High Impact Eyewear Safety and Protection in Construction, Medical Environments, and more.

Over The Glass (OTG) supports existing eyewear protection against debris, UV rays, and more. Single lens protection encapsulates prescription eyewear for added safety and improved fit. Flexible nylon temples are adjustable for user comfort. Select models feature both anti-scratch and anti-fog capability. Resilient nylon and polycarbonate construction is durable and corrosion resistant for extended durations of usage. Most models are ANSI approved. Package quantity range is 1-12. Colors and additional specifications vary per model.