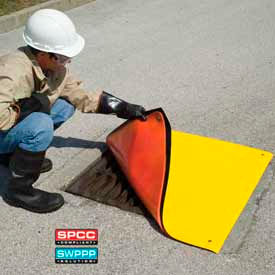 Ultra-Drain Seal Plus®
Ultra-Drain Seal Plus® Keeps Drains Protected In Parking Lots, Loading Docks, And Other High Vehicle Traffic Areas.

Ultra-Drain Seal Plus® is made using flexible, non-absorbing urethane with a reinforced PVC top layer to provide protection from extended UV exposure and vehicular traffic. Bottom layer is reinforced with tear resistant mesh to resist oil, water and most aggressive chemicals. Urethane bottom layer keeps spills from entering drains while yellow color helps identify protected drains. Cleans with soap and water. Helps comply with SPCC and NPDES. Available in Circular, Rectangular and Square shapes in a variety of sizes.