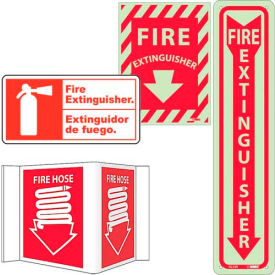 Fire Extinguisher Signs
Fire Extinguisher Signs Are Designed For Worksite Areas In Need of Flammable Warnings and Displays.

Fire extinguisher signs provide worksite awareness to fire safety equipment. Enlarged icons and bright color finish increases unit visibility. Available Sign Legends are Fire Extinguisher, Fire Extinguisher Do Not Block, and more. Available constructions are Acrylic, Aluminum, Fiberglass, Plastic, and Vinyl. depending on the model. Dimensions vary per model.