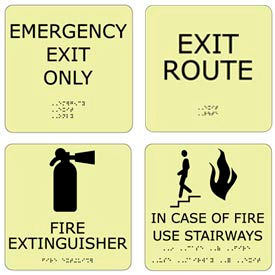 ADA Office Glow Exit Signs
ADA Office Glow Exit Signs Assist With Emergency Evacuations For Dimly Lit or Dark Environments Including Commercial, Industrial, Corporate, and more.

ADA office glow exit signs provide a high visibility escape notification for emergency situations. Photoluminescence material requires no power source for reliability and low maintenance. Select models are rated to glow for 6+ hours. Available Sign Legends are Exit, Stairway, and more. Available constructions are Plastic. Dimensions and additional specifications vary per model.