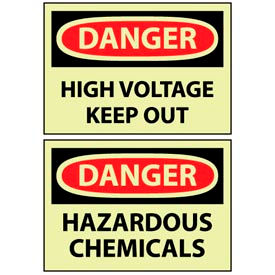 Glow - Chemical Hazard & Storage Signs
Glow - Chemical Hazard and Storage Signs Provide Easy to Read Notifications Signs For Worksite Areas In Need of Hazard Content Awareness.

Glow - Chemical hazard and storage signs are designed to identify chemical hazard and storage materials in dark and dim lit areas. Enlarged text and graphics to increase first glance comprehension. Most signs comply with OSHA and NFPA requirement and provide an illumination duration time of 6+ hours. Select models meet both OSHA and ASTM requirements. Dimensions and additional specifications vary per model.