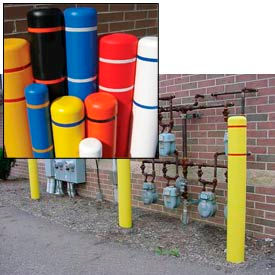 BollardGard™ Bollard Covers
BollardGard™ Bollard Covers Securely Protect or Cover Old Bollard Posts.

BollardGard™ Bollard Covers enhance and protect the appearance of bumper post steel bollards in all indoor or outdoor applications. Made of 1/8" thick high density polyethylene for durability. UV stabilized for protection against fading or cracking. Includes two 1"W reflective stripes that are spaced 10" apart for high visibility. Adhesive gripper tabs allow secure and easy installation. Available in Round or Square covers and a variety of color finishes. Limited Warranty.