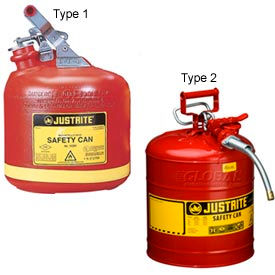 Justrite® Safety Cans
Justrite® Safety Cans Provide Flammable Chemical Storage For Automotive Garages, Manufacturing Plants, and more.
Flashback is prevented by double mesh flame arrestor screen inside spout. Spring-loaded cap closes automatically. Justrite fuel tanks feature long-life synthetic gasket that resists virtually all liquids and maintains a tight seal. Environmentally safe
Galvanized Steel
model may be used for storing petroleum products where purity and color are not critical. High-Density
Polyethylene
resists corrosion. Polyethylene Funnel for Type 1 cans helps dispensing liquids. Color coding gas cans helps prevents accidents. Cans available in Blue, Green, Red and Yellow.
10 Year Limited Warranty.
Click for Color Coding Chart