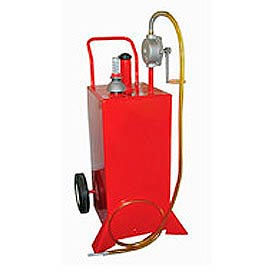 Steel Gas Storage Caddy
Portable Fuel Tank Makes Carrying Gasoline Safe and Easy

Portable 30 gallon steel container for gas, diesel, kerosene or mixed fuels. 2-way rotary pump siphons and dispenses, 1 gal. per 21 rev. Fuel tank features fire screened vent and fuel level gauge. FM approved. Grounded. 14"W x 22"D x 45"H. CE/FMA approved and OSHA complaint.