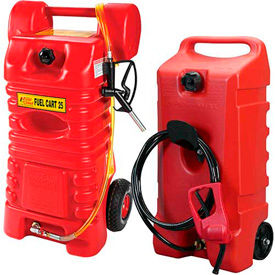 Polyethylene Portable Fuel Tanks
Polyethylene Portable Gas Caddies Conveniently Store Gasoline During Transport.

Polyethylene portable fuel tanks provide safe and mobile accessibility to gas for a variety of marine and landscaping equipment or transport vehicles. Tanks have a spring loaded nozzle to prevent overfill and spills. Molded-in baffle strengthens tank and minimizes sloshing of contents. Includes vented cap. 6 in. and 10 in. 10" pneumatic wheels permit easy movement over rough terrain making them used for marine and landscape use. Polyethylene construction resists corrosion and dents and provide lasting durability. UL, USCG, UN and DOT compliant.