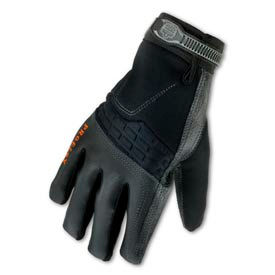 ProFlex® Anti-Vibration & High Impact Gloves
ProFlex® Hand VR Gloves Are Suitable For Construction Sites, Workshops, Factories, Refineries and more.

ProFlex® Anti-Vibration & High Impact Gloves feature a variety of options available in Cotton Nylon Knit/Rubber, Cotton/Nylon, Cotton/Spandex Body/Akton Padding, Leather, Leather w/Gel Pad, and more. Select gloves are designed using a patented Nu2O2® polymer for maximum shock absorption. 3-layer material consists of urethane gel O2-impregnated urethane gel and neoprene. Reduces risk of developing HAVS (Hand Arm Vibration Syndrome). Gloves are made with an open center to reduce pressure on the median nerve, while the contoured build follows the natural shape of the wrist for superior comfort. Gloves With Dorsal Protection feature tough micro-injected dorsal shell with venting for added comfort. Full Lenght AVX™ palm for reduced vibration. Select Certified Anti-Vibration Gloves are made with pigskin leather palm and fingers for firm impact protection. Impact Gloves are made with EVA foam pad to absorb shock and split leather for extra durability. Impact gloves are available with wrist support or with half-fingers.Half Finger Impact Gloves have Segmented AVC™: palm and half-fringe design for maximum dexterity and control. Certified Anti-Vibration Gloves w/ Wrist Support Full-length AVC™ palm padding and Open-Center Stay™ provide additional support and motion discomfort relief.Glove Liners add impact protection to standard work gloves, or may be worn alone. Gloves are available in sizes ranging from S to 2XL. Meets ANSI standards.