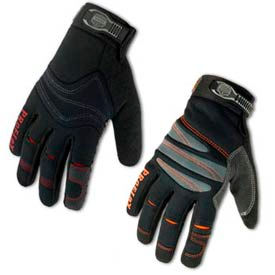 Professional Work Gloves
Professional Work Gloves Provide Hand Safety and Protection for Mechanics, Construction Workers, Hobbyists, and more.

These work gloves are solidly made for long lasting durability. Hook and loop wrist closure provides comfortable fit for user convenience. Gloves are CE approved and machine washable. Sold per Pair. Mechanic's gloves feature shock padded palm and knuckles with reinforced fingers and thumb. Utility gloves include padded spandex back with reinforced fingertips and terry thumb brow wipe. Handling gloves have a textured silicone palm and fingers for secure grip in wet weather. Belay/ Rappel gloves have a double layer of leather on palm and fingers. Available glove styles include Contractor, Demolition, Fingerless, Handler, Mechanic's, Multi-Purpose, Open Cuff, Padded Palm, Soft Shell, and Utility Gloves. Available sizes are XS, S, M, L, XL, and XXL. Colors are Black, Black/Gray, Black/Neon Green, Black/ Orange, Black/Purple, Black/White, Black/White/Yellow, Black/Yellow, Pink/Black, and Tan.