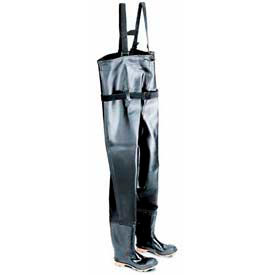 Chest and Hip Waders
Chest and Hip Waders Protect from Foot to Chest for Outdoor Work, Water Areas, Industrial Sites and more.

Chest and Hip Waders are heavy duty PVC upper with polyester backing and adjustable polyester nylon strap for durability. These are non-corrosive and resist oil, grease, gasoline, saltwater, and ozone. Waders can be folded or rolled without cracking. Top drawstring closure provides snug fit. Types include Plain Toe, Steel Toe, and Steel Toe/Steel Midsole. Sizes range from 6 - 15. Boot heights are 35", 51", and 56.6". Outsole designs are Cleated, Non-Skid Cleated Sole, and Ultragrip Sipe. Cushion insoles are replaceable. Waders have reinforced suspender buttons, built-in belt loops with adjustable belt, and non-absorbent lining. Color is black.