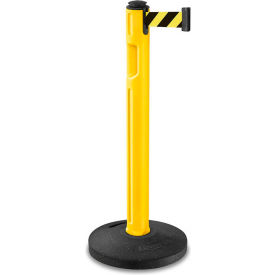 Lavi Industries Tempest Outdoor Stanchions
Lavi Industries Tempest Outdoor Stanchions Provide Outdoor Safety Barricades, Crowd Control and Public Guidance.

Lavi Industries Tempest Outdoor Stanchions are solidly made of weatherproof High Density Plastic (HDPE) material with 12 foot length built-in retractable belts for long lasting durability and dependability. Used for outdoor safety barricades, crowd control and public guidance. Choose between a high density refillable plastic or 100% recycled rubber base. The recycled rubber base is stronger, denser and outlasts new or vulcanized rubber products. Available in highly visible Black, Orange, Red or Yellow colors for enhanced visibility in inclement weather. Belt colors are Black, Black/Neon Yellow, Black/Red, Blue, Bronze, Burgundy, Florescent Yellow, Forest Green, Gray, Navy Blue, Olive Green, Orange, Red, Safety Black/Yellow and Silver/Black belt colors. Florescent Yellow belts with Caution - Do Not Enter and Please Do Not Enter - Temporarily Closed black printed messages also available.