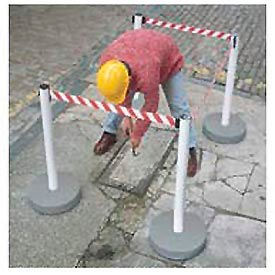 Outdoor High Visibility Barrier PVC Post
These High Visibility Pedestrian Safety Barriers Help Ward Away Unwanted Personnel And Traffic For Outdoor Environments.

Outdoor high visibility safety access barriers have a 7-1/2'L striped belt and one 36"H weatherproof post made from PVC. Base can be filled with water and measures 13-1/2" diameter for enhanced stability. Safety barriers are available in a variety of colors.