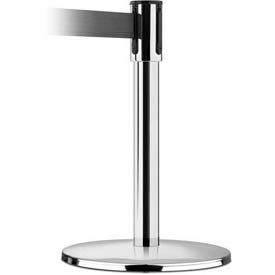 Gallery Posts w/ Retractable Belt Barriers
Gallery Posts w/Retractable Belt Barriers Are Used For Museums, Galleries, Auto Show Rooms, Retail Or Trade Show Displays And Other Public Areas.

Gallery Posts w/Retractable Belt Barriers are made of steel for long lasting durability and dependability. Keeps crowds at safe distance from exhibits without blocking view. 18 inch height allows for unobstructed view. Reduced weight used for protecting import displays. Patented slow retract braking mechanism. Locking belt receivers prevent accidental release. Post height is 18 in.. Post colors are Black Powder Coat, Polished Chrome and Satin Chrome. Belt color is Black. Belt lengths are 7.5 ft. and 13 ft..