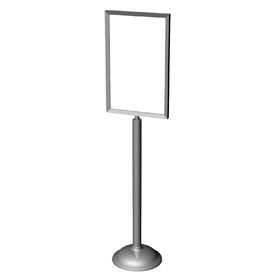 Double Sided Sign Stands
Double Sided Sign Stands Help Display Messages For Customers, Visitors, And Guests.

Double Sided Sign Stands are made of polished brass and steel to provide long lasting durability. Base styles are Flat or Dome. Overall heights are 56-3/4" and 62-3/4". Overall widths are 14" and 22". Stands display messages, posters, signage, notes and more. Portable stand includes a wide diameter base for stability. Clear Acrylic Shields (sold separately) help prevent wear and tear of paper signs and posters placed in sign holders. Encases the signs inside of each frame for protection from the elements and daily use. Available colors are Satin Chrome or Satin Brass, Black and Polished Chrome or Polished Brass.