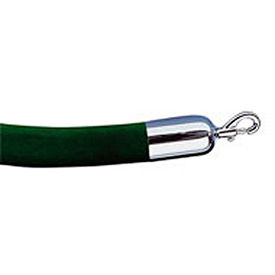 Crowd Control Ropes & Rope Ends
Choose The Crowd Control Rope & End That Matches Your Décor.

This wide selection of barrier ropes is available in a variety of colors to match your environment. All ropes are 1-1/2" diameter and 1 foot long. Plush Velour and leather-like Naugahyde Rope is filled with a heavy cotton core for graceful draping and superb durability. Twisted Rope offers a strong, rugged and durable rope.

Rope Ends are sold separately on select styles; choose between Snap or Hook End styles. Rope ends allow easy rope attachment to Crowd Control Posts (sold separately).

Note: When ordering, rope ends must be purchased on same order of ropes for factory installation.

Note: Price of Rope is per foot. When ordering cut length per foot, round to the nearest linear foot (example 6 feet, 8 inches must be rounded to either 7 feet or 8 feet). Allow a tolerance on cut ropes on each side for installation of Rope Ends (sold separately). All custom cut ropes are not returnable.