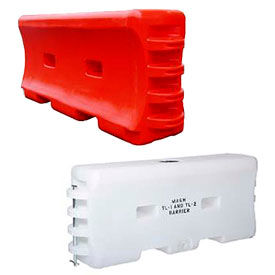 TrafFix Water Filled Barriers
TrafFix Water Filled Barriers

The Water-Wall ™ Barrier is a durable side protective temporary crash barrier system that can be used in many situations; from protecting the public surrounding a construction site, to work-zone safety on roads and highways.

The Water-Wall™ Fence easily retrofits to the TrafFix Water-Wall™to create an imposing and secure barrier for unwanted entries. Fence sections interlink with Water-Wall barrier to provide better overall stability and allows for easy changes in ground height.The TrafFix Water-Wall™ and Water-Wall™ Fence can rotate up to 30° for easy layout and encircling of job sites.

The TrafFix Water-Cable Barrier™ is designed with three molded in galvanized steel cables that strengthen the water-cable barrier to resist vehicle penetration during an impact. The hinges are designed to allow a 30° pivot between sections and each hinge features a double wall knuckle design that greatly minimizes breakage.