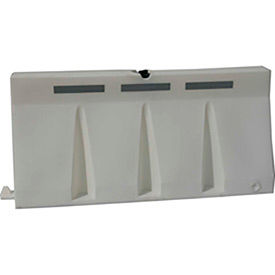 Safety Polyethylene Barricades
Safety Polyethylene Barricades Direct Traffic Flow and Cordon Off Hazards or Construction.

Safety polyethylene barricades are compact in design and are forkliftable for ease-of-transport. Dovetail joints interlock for secure attachment. Most barrier sections can be filled with water or sand to increase stability. Select units include cable lugs to prevent theft. Most models include reflective strips for added visibility. High density polyethylene construction provides lasting durability. Safety barricades lengths are 60", 71-1/4", 72", and 76-1/2". Heights are 24", 36" and 43". Available colors are Blue, Natural, Orange, Red, White, or Yellow. Additional specifications vary per model.