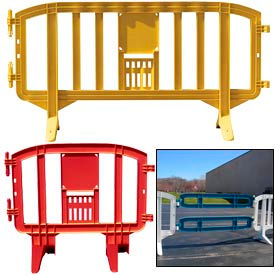 Interlocking Plastic Barricade
Interlocking Plastic Barricades Have Interlocking Ends For Tool-Free Barrier Expansion and Allow Swing-Action For Flexible Configurations.

Interlocking plastic barricade provide convenient and simple setup for outdoor traffic and parking lot safety guidance. Polypropylene plastic construction and full body designs are compact and lightweight for easy handling and storage. Plastic safety barrier feature strong defense against rusting, chipping or denting. One-piece interlocking unit has no weak points. Safety barricades are designed for indoor and environmentally safe outdoor functionality. Molded, wide-angle feet provide stability. ADA Barricade measures 72"L.MOVIT®Standard Barricade measures 78"L. MINIT® Barricade measures 49-1/2 L. Plastic Extension for Minit® and Movit® barricades offers cost effective extensions to barricades. Use 2 extensions between 2 barricades. Dimensions and additional specifications vary per model.