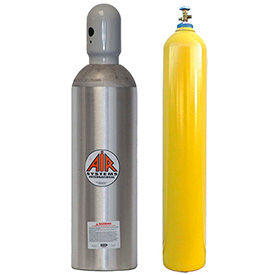 High Pressure Breathing Air Cylinders
High Pressure Breathing Air Cylinders Provide Oxygen For Emergency, Medical, and Hazardous Environments.
These high pressure breathing air cylinders are designed to provide oxygen for dangerous environments including fire-fighting, scuba diving, and more. The air cylinders are made of aluminum, steel, or carbon fiber with a maximum pressure level of 4500 PSI. Most air regulators have dual pressure gauges with up to a maximum of 6000 PSI. The connecting whip with tee is also available with a maximum PSI of 6000.
Aluminum, steel, or carbon fiber cylinder construction
Available styles include Air Cylinders, Air Regulators, Connecting Whips, and more
PSIs range from 3000 to 6000