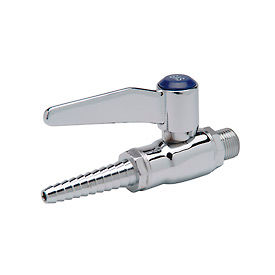 Zurn® Laboratory Gas Valves
Zurn® Gas Valves Are Used For Use in Schools and Labs.

These gas valves are made of polished chrome brass and feature a 3/8" N.P.T. male inlet ball valve with a pressure rating up to 125 PSI [9"-10" Hg vacuum]. Unit is furnished with a removable 3/8 -18 NPT male serrated hose nozzle for in-line piping to water. ADA designed. Check Stop only allows gas to flow in one direction for enhanced safety. Water Service Lab Valve has a 3/8 NPT male inlet hose cock with a cross handle and removable serrated nozzle outlet.