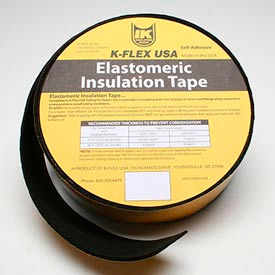 K-Flex Elastomeric Foam & Cork Tape
K-Flex Elastomeric Foam Tape And Cork Insulation Tape Help Complete The Family Of K-Flex Tubing And Sheet Insulation Products.

Elastomeric Foam Tape is 1/8 thick x 2 W. Uses pressure sensitive adhesive for applying to hot or cold pipes and fittings. Factory applied pressure sensitive acrylic adheres firmly and forms a long lasting bond. Helps reduce heat gain and prevent condensation or frost formation on cold water plumbing, chilled water and refrigeration lines. Reduces heat flow for hot water plumbing, liquid heating and dual temperature piping. Cork Insulation Tape provides insulation and prevents condensation of pipes, fittings and tubing used in heating, air conditioning, refrigeration and plumbing. Adheres to most clean, dry surfaces and to itself, making it possible to apply more than one layer without adding fasteners or adhesives.