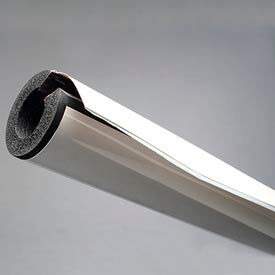 K-Flex Clad™ WT Insulation
K-Flex Clad™ WT Flexible Elastomeric Insulation Features Abuse-Resistant Composite White PVC / Mylar® Film.

Flexible, closed cell elastomeric insulation is adhered to an outer covering of aesthetic composite white PVC/Mylar® film to provide weather resistance, UV and mechanical abuse protection. Used for outdoor and indoor applications including food processing plants, pharmaceutical, film processing, electronics and other clean room environments. Damage, dent, moisture, mold and mildew resistant. Cladding provides a secondary moisture vapor barrier inherent to the closed cell foam core. Surface is impact resistant, as well as, resistant to acids, alkalis, salts, oils, fats, gases, vapors and more. Low thermal conductivity and high water vapor diffusion resistance factor. Elbows and Matching Tape help make installation easy and with excellent appearance. GreenGuard® certified. Tested to ASTM E 84 standards.