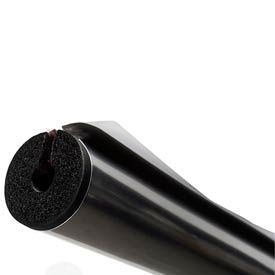 K-Flex Clad™ AL Insulation
K-Flex Clad™ AL Flexible Elastomeric Insulation Features Abuse-Resistant Plastic Laminated To Aluminum Foil.

Flexible, closed cell elastomeric insulation is adhered to an outer covering of aesthetic plastic sheet laminated to an aluminum foil. Aluminum tri-plate consists of a PVC bottom, aluminum foil middle and PET film top. UV and weather resistant, making it used for outdoor use. Used for food processing plants, pharmaceutical, film processing, electronics and other clean room applications. Damage and dent free. Moisture, mold and mildew resistant. Plastic/aluminum cladding provides a secondary moisture vapor barrier inherent to the closed cell foam core. Surface is impact resistant, as well as, resistant to acids, alkalis, salts, oils, fats, gases, vapors and more. Elbows and Matching Tape help make installation easy and with excellent appearance. GreenGuard® certified.