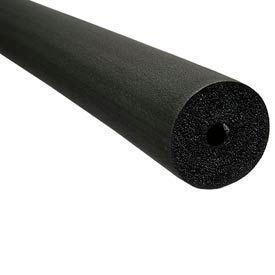 K-Flex Insul-Tube® Flexible Closed Cell Pipe Insulation
K-Flex Insul-Tube® Pipe Insulation Reduces Heat Gain and Prevents Condensation for Refrigerator Lines, Cold Water Plumbing and Chilled Water Systems.

-Flex Insul-Tube® Pipe Insulation is environmentally-friendly for HVAC system use. The non-porous, non-fibrous construction also resists mold growth. Helps delay heat flow for hot water plumbing, liquid heating, dual temperature piping and many solar systems. EPA registered antimicrobial agent provides additional protection against mold, fungal and bacterial growth. Tough skin exterior withstands tearing and severe environmental conditions. UV resistant. White Tubing is designed for exposed piping areas or areas to be painted. Used for supermarket, hospital and school applications. Available with or without core. GreenGuard® certified. FM approved. UL 94 recognized. ASTM tested.