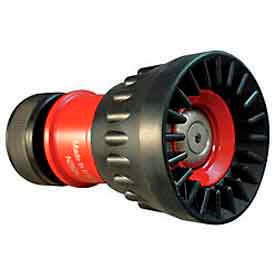 Industrial & Fire Hose Fog Nozzles
Industrial And Fire Hose Fog Nozzles Are Used Plumbing Accessories For Use With Fire Department And Industrial Fire Hoses.

Industrial And Fire Hose Fog Nozzles are made of aluminum, brass and plastic for long lasting durability and strength. Hose fittings provide uniform flow in all positions for use with fire protection or wash down. Ball shut off valve and variable twist to adjust fog pattern available on some models. Available nozzle types are Fog, Plain Hose, and Shut-Off Nozzle. Available styles are Heavy Duty/Industrial, Industrial, Open Bore, ULC Approved, and With Bumper. Connection sizes are 3/4, 1, 1-1/4, 1-1/2, 2, and 2-1/2 inches. Connection types are GH, NH, and NPSH. Gallons per minute (GPM) capacities range from 8 - 205.