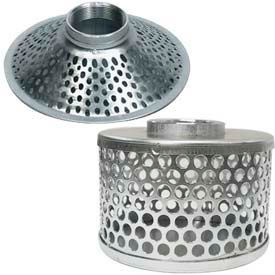 Steel Hose Strainers
Steel Hose Strainers Prevent Damaging Solids From Entering the Pump For Multiple Applications Including Construction, Agricultural, Industrial, and more.

The strainer openings allow small debris or solids to pass through the pump, but prevent larger material access for equipment protection. The polypropylene and steel construction provides strength and corrosion resistance for long lasting dependability. The slim design is suited for shallow applications where a foot valve is not required. The strainers are available in round, top, and square holes for suction hoses. Dimensions vary per model.